Friday, September 30 2022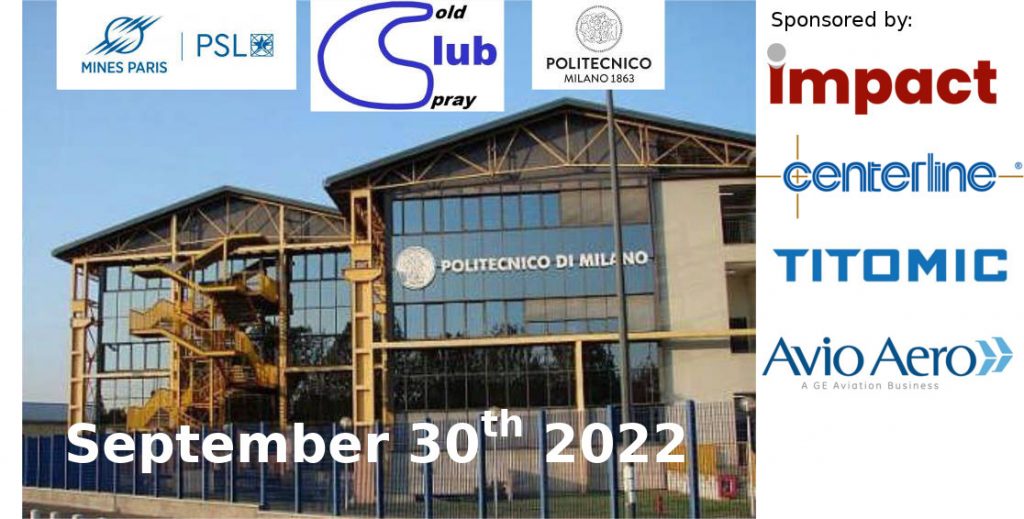 ---
Registration
Unfortunately, the sum gathered today thanks to our sponsors is not sufficient to cover the whole meeting cost. We are therefore obliged to ask for a financial contribution to each member willing to participate to the event. The fee is 60 € per person.
Registration is open on the Eventbrite platform. Click on the button below. Warning! The deadline for registering is September 11.
---
Agenda
Begin 9.30 a.m. – End around 6 p.m.
9.30 – 9.45: introduction
9.45 – 10.45: 1st Session: Refurbishment by Cold Spray
Frank Gaertner (HSU, Germany), Computerized Refurbishment by Cold Spaying
Francesco Delloro (Mines Paris, France), Cold Spray Refurbishment of Carbon Steel Parts
coffee break, 15 minutes
11.00 – 12.45: 2nd Session: Repair by Cold Spray + Cold Spray Additive Manufacturing of High Entropy Alloys
Shantar Khandar (UTBM, France), Repair of a Variety of CFRC Structures using LPCS and HPCS Metallization
Marek Doubrava (BUT, Czech Republic), The repair of Inconel 713LC turbine blade with artificial defects by Cold Spray technology 
Tanvir Hussain (University of Nottingham, UK), Impact phenomena and microstructural characteristics during cold spraying of CoCrFeNiMn high entropy alloy: Experimental and numerical investigations
Shuo Yin (Trinity College, Ireland), Microstructure and tensile properties of additively manufactured cold spray CoCrFeNi high-entropy alloy deposits
12.45 – 14.00: lunch
14.00 – 16.00: 3rd session (Cold Spray Additive Manufacturing)
Javier Sanchez (CPT, Spain), Metal Knitting: A method to control morphology and properties in cold gas spray additive manufacturing. Principles and Applications
Sara Bagherifard (Politecnico di Milano, Italy), Modelling of the deposits in cold spray additive manufacturing
Ismail Uensal (Fraunhofer IGCV, Germany), Fabrication of Multi-Material components using Cold Spray Additive Manufacturing
Klaas Rozema (Titomic Europe, The Netherlands), Title to be defined
coffee break, 15 minutes
16.15 – 17.15: open discussion, animated by Julio Villafuerte (Centerline, Canada)
17.30: aperitif and au revoir